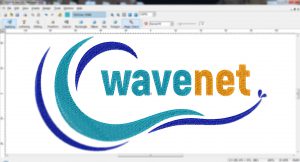 Embroidery software is a specialised type of software that allows you to create your own embroidery designs and fonts. You can then easily send those designs to your embroidery machine. It is part of a broader category of software called CAD (Computer Aided Design) software. Developing this kind of software is very difficult, and only a few companies in the world have such developed embroidery software that is easy-to-use and at the same time effective, with powerful tools and high quality results.
In cooperation with Compucon SA, one of the first companies in the world to have developed EMB software, Wavenet offers you a range of products, which will help you create unique embroidery designs. Also we offer ready-to-be-stitched embroidery design collections, digitized by professional digitizers. Our experienced staff is ready to help you choose the best embroidery software for your needs, and also provide full training and support.
EOS v.3 plus is a professional software, which offers powerful tools for demanding users. For more information click here.
SnS (Stitch & Sew) v.2.1 is a semi-professional software suitable for both amateurs and professionals of the embroidery sector. It is very easy to use, while at the same time offers powerful tools. For more information click here.
Our embroidery designs collections styled "Embroidery Anthology II" and "Stile Italiano" include thousands of ready-to-be-stitched embroidery designs classified in various categories. For more information click here.