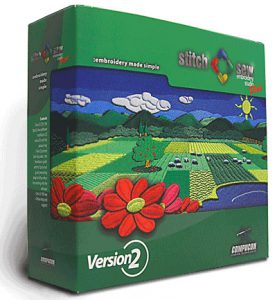 Compucon Stitch and Sew v.2 is a complete digitizing and editing software containing a large variety of functions and features only to be found in professional packages in the market, at the same time being a software that is extremely easy to learn and use, even for absolute beginners in the field.
Compucon Stitch and Sew v.2 contains numerous semi-automatic and also fully automatic tools for the creation of embroidery designs, such as a complete Lettering environment, automatic conversion of an image into embroidery (AutoPunch), automatic conversion of a photo picture into 1-color or 4-color embroidery and many others.
With simple to use tools and easy to understand instructions Stitch and Sew makes it easy to express your artistic side.
Whether you're creating a simple design or working on a large project Stitch & Sew contains everything you need for a professional look and finish.
Key Features of Compucon Stitch and Sew v.2 Include:
Easy to use, intuitive interface
Standard digitizing
Auto Digitizing – AutoPunch
Powerful Editing
Resize & Reorder
Lettering easy to use, quality lettering
Up to 100 high quality fonts
Up to 30 Lettering templates
Monogramming easy input & special font styles
Name Drop
Convert True Type fonts to embroidery
Convert photos to embroidery – PhotoStitch
Auto digitizing for cross-stitch
Magic Wand auto trace for quick input of outlines
Switch between Embroidery recipes edit and change any fill type
3D Realistic View
Manual stitches
Add/change machine codes
Applique creation fast, quality & controllable appliqu digitizing
Sequin stitch type utilizing special sequin devices
Color Blending & Degrade
Special effect stitch types – Pattern step, Elastic step and Motif
Send design as e-mail, quick and direct
Direct loading of vector artwork from popular graphic packages
Powerful Draw Package
Tutorial & Internet help reliable support offered at all times
Quick Start guide & training CD
Fully compatible with Windows XP, Vista, 7, 8, 10
Download a Demo of Stitch & Sew v.2

You will need the following credentials in order to be able to download the files:
Username : wavenet
Password: wavenet